NCMAR & Boys and Girls Club
Realtors® help build neighborhoods and communities, and volunteering time and resources with BGCA gives us the opportunity to help enrich and improve the lives of the young people in these communities. NCMAR members rallied together to volunteer at several posts during the 5K fundraising event to support our friends at the Boys and Girls Club. NCMAR members Kathryn Weldon manned the hydro-blaster, and Locke Haman and Tom Ruble fired up the grill to provide a hearty lunch. Kathy Lore, Pat Toth, April Cover, Brian Cormier, Susan Roser and Michelle Haggstrom assisted with pre-race activities such as registration, bib and t-shirt pickup. The funds raised from the 5K race will be used to continue the many beneficial programs at the local Boys and Girls Club
The North Central Massachusetts Association of REALTORS is the most trusted resource for real estate information in Northern Worcester County and BGCA is the premier youth development organization in the U.S. Both organizations have come together to make an ever greater difference in the community.
Our work with Habitat For Humanity in 2017
Women's Build a Huge Success!
The Women Build Crew hung drywall in the kitchen and bedrooms on May 4th in Ayer. Katy Weldon & Lisa Thomann provided lunch and Susan Wright brought a healthy salad option. Locke Haman provided the crew with hot coffees mid morning!
If you are interested in knowing more about Habitat for Humanity North Central, visit www.ncmhabitat.org
Thank you to our NCMAR members as we work to help achieve the Habitat for Humanity Mission – to eliminate poverty housing and homelessness right here where we live.
2018 Relay for Life
North Central Massachusetts Association of REALTORS and Affiliates Building on Hope team participated in the American Cancer Society Relay For Life event on June 10th and 11th at Mount Wachusett Community College in Gardner.
Michelle Haggstrom, Denise Wortman, Kathy Lore, Brieanna Fluet Kelley and family, Stephanie Pandiscio, Sandra L. DeRienzo, Lisa Thomann, Locke and Ashley Haman, Tim and Suzanne Tenney, David Rocheford, Bill Foss and Lisa Fanelli all joined in the walk to cure cancer. Opening ceremonies were moving and the luminaries at 9 pm were a sight to behold. The cut the event short but participating in this worthwhile event was fun and meaningful.
Our 2018 Community Scholarships
The first recipient of the $1,000 Community Scholarship is for 2018 is Abigail Newcombe.
Abigail is a 2018 Graduate of Montachusett Regional Vocational Technical School, and she plans to attend Johnson and Wales to study Baking and Pastry Arts.
Abigail has demonstrated her educational accomplishments through Skills USA winning a Bronze medal in 2016 and the Silver medal in 2017 and 2018. She has worked as a waitress in addition to her education to help support her single father and younger brother with cerebral palsy.
Abigail has demonstrated a strong work ethic and a passion for baking that has brought her to being accepted to one of the best baking colleges in the country. Please join me in congratulating Abigail on her achievements and for winning one of our Community Scholarships.
The second recipient of the $1000 Community Scholarship for 2018 is Jackie Bertrand.
Jackie Bertrand is a 2018 graduate of Quabbin Regional High School. Jackie plans on attending college at Fitchburg State University to study Nursing.
During her years at Quabbin Regional, Jackie demonstrated her determination to succeed through maintaining her membership in the National Honor Society and participating in Track and Field throughout high school, including serving as team Captain this school year.
Jackie has also given back to her community serving as a counselor for the Special Olympics, as a volunteer for children's track and field camp and at the Barre Food Pantry. Please join me in congratulating Jackie on her achievements and for winning one of our Community Scholarships.
Our 2018 Willard Ide Scholarship
We are proud to announce the winner of the Willard Ide Shattuck, Jr. Memorial Scholarship for 2018: Abigail Gorman
Abigail is the granddaughter of Diane Adams of Adams Construction and Realty of Ashby. Abigail plans on attending the Anderson University in South Carolina to study marketing.
Abigail graduated with honors from the South Merrimack Christian Academy. During her years in high school, Abigail participated in girls volleyball and was Student Body Council President. She has volunteered as a math tutor and participated in a Missions Trip to El Salvador.
She works as an operations assistant at the Townsend Ridge Country Club and Bailey's On The Green Catering Server. Congratulations Abigail on being awarded the Willard Ide Shattuck Memorial Scholarship.
Holiday Helping Hands Donation Program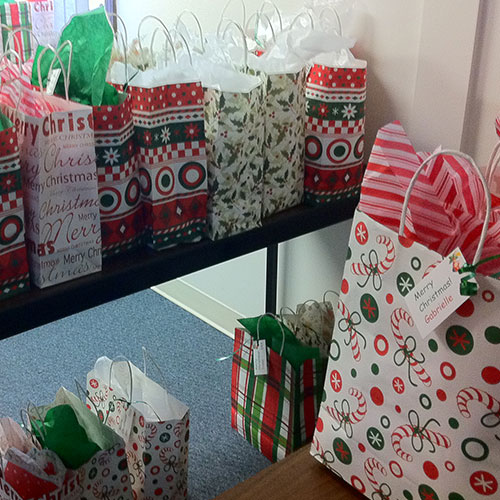 The Holiday Helping Hands Program is designed to enlist the aid of REALTORS and Business Partners to bring some "Holiday Cheer" to those families who may otherwise, without our help, have a less than happy holiday.
NCMAR REALTORS and Business Partners help by purchasing and wrapping gifts for those in need. These gifts go to the Battered Women's Shelter, Our Father's House, Elizabeth House, the Athol Council on Aging, Children's Aid and Family Services and Head Start.