Habitat for Humanity Home Builds
The North Central MA Association of REALTORS is proud to have assisted Habitat for Humanity North Central on several home builds and several critical need repairs. Womens' builds are our favorite volunteer opportunity as our REALTORS get to show their exceptional talents in working at the new builds. The association assists with Habitat's major fundraising events – Habitat for Humanity Building on Dreams Golf Tournament and Wine Tastings.
Everyone deserves to live in a safe, affordable home. This can only happen with the hard work of volunteers, local businesses and the community's own determination to make things better.  Habitat for Humanity North Central provide home ownership opportunities to families falling below 60% of the area median income. Helping low income home owners maintain the safety and comfort of their homes through critical home repairs ia also a fundamental part of our mission.
Several things happen when a Habitat for Humanity home is built. The lives of families in need are changed forever. Families experience the pride and responsibility of home ownership. Volunteers and donors experience the pride and solidarity of accomplishing worthwhile goals. Neighborhoods are revitalized. Communities benefit from the new homeowners and an improved tax base. Children thrive as they live in secure, well built homes.
The coverage are of Acton, Ashburnham, Ashby, Athol, Ayer, Berlin, Bolton, Boxboro, Clinton, Fitchburg, Gardner, Groton, Harvard, Hubbardston, Hudson, Lancaster, Leominster, Lunenburg, Littleton, Maynard, Pepperell, Phillipston, Princeton, Shirley, Sterling, Stow, Templeton, Townsend, Westminster, Winchendon is very similar to the cities and towns that the jurisdiction of theNorth Central MA Association of REALTORS. 
Abolitionist Park
FITCHBURG — Friends of Fitchburg Abolitionist Park will receive a $4,500 grant from the North Central Massachusetts Association of Realtors to assist in the transformation of an unused parcel on Snow Street to a "pocket park" and memorial site.
Fitchburg State University has agreed to let organizers use the university-owned property at 42-50 Snow St. as the memorial site for anti-slavery activist and resident Benjamin Snow Jr.
The grant, funded by the National Association of Realtors, is intended to help realty associations partner with others to plan, organize, implement and maintain place-making projects in their communities.
Funds will be used to purchase a flag pole, two flags, solar powered lighting, apple trees, perennial flowers, and fencing for the park.
Members of the Realtor association have also volunteered to assist with the landscaping and installation of the trees, flowers, flag pole and fencing.
In a press release, NCMAR President Kendra Dickinson said Realtors take pride in working to improve the communities they work in, and this grant is an example of their dedication. "Place making can help foster healthier, more social and economically viable communities," she said. "It creates places where people feel a strong stake in their neighborhoods and are committed to making things better."
Place-making grants are awarded to local and state Realtor associations to help create public spaces and destinations in a community, like transforming a parking spot or a vacant lot into a pocket park or garden, according to Dickinson.
Mount Wachusett Community College Instructor David Thibault-Munoz, who is spearheading the project, said he was grateful for the funding boost and happy the project is getting more support.
"We're really excited about this," he said. "Right now, we've raised a little over $12,000 to get started on phases one and two of the project."
In September, Fitchburg State and Three Pyramids, the organization working with Friends of Fitchburg Abolitionist Park, signed a memorandum of understanding to develop a multi-phase plan for the project.
Thibault-Munoz said the park will include a brick walkway, three benches, and a flagpole with a perennial garden at its base. The center of attention will be several busts of prominent abolitionist figures who are connected to Snow. Plans include building an interactive display with photos of several abolitionists, which will be connected to a phone application that tells their story.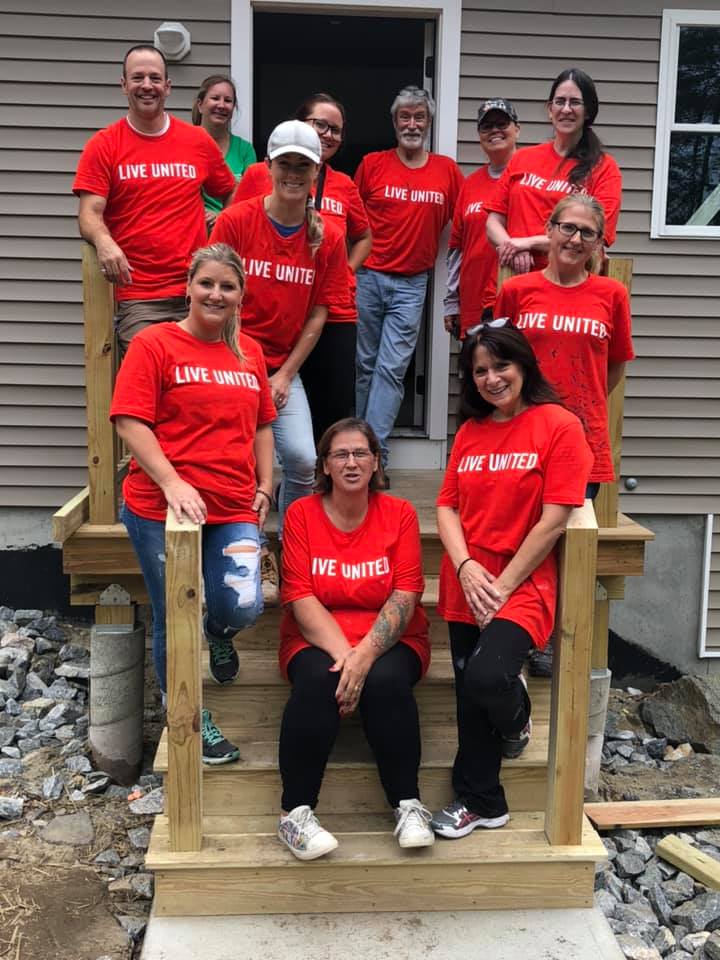 Dog Park
In September, a group of REALTORS and Business Partners gathered at the new Fitchburg Dog Park located on the backside of Coolidge Park. NCMAR secured a grant for $2,400 to purchase mature trees to be planted along the fencing of the dog park. The volunteers dug holes, planted the trees, filled the holes and did an awesome job!  Our volunteers were Rick Vallee, Steve Kelley, Karin Anderson, Brian Cormier, Justin Lore, Dylan MacLeod, Linda Lee, Kathy Lore and Sam (the Beagle).
The first pictures below show the temporary banner on the fence of the Fitchburg Dog Park welcoming dogs and their owners to enter.
The second picture is of Justin Lore and Dylan MacLeod rolling a very large tree root ball into the hole they just completed digging.
The third photo is a picture of the volunteers that worked on the tree planting at the Dog Park with shovels in hand. 
Activate Mill St.
On July 25 the volunteers of NCMAR assisted in several activities such as weeding the whole area, spray  painting of table and chairs, and painting the walkway from Main Street to Boulder Drive for the newly renovated Mill Street. NCMAR was able to secure a grant of $5,000 from the National Association of REALTORS for this project. Activate Mill Street will transform a remote alleyway in downtown Fitchburg into an inviting, widely used public space. Some of the elements of the project include:
Seating opportunities to enjoy the day with family and friends
Low cost lighting to add safety and visibility throughout the corridor
Moveable astro-turf to transform some or all of the alleyway into a vibrant public space
Mural walls and other art installations to transform the space into a public art gallery
Decorative window treatments to add color to the downtown landscape
Modular decking to serve as a seating area and/or a music venue in warmer weather
Street carts opportunities for vendors to sell their food and goods to the public
Flexible space that can change based on the seasons, events and consumer demand. 
The pictures below show the many volunteers that helped to clean, sweep, spray paint furniture and paint bubble gum pink stripes down the walkway.