NCMAR and the Boys and Girls Club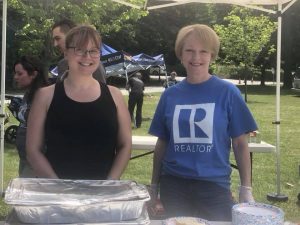 Realtors® help build neighborhoods and communities, and volunteering time and resources with BGCA gives us the opportunity to help enrich and improve the lives of the young people in these communities. NCMAR members rallied together to volunteer at several posts during the 5K fundraising event to support our friends at the Boys and Girls Club. NCMAR members assisted with pre-race activities such as registration, bib and t-shirt pickup, fired up the grill to provide a hearty lunch and held posts along the 5K route to direct runners and walkers and give them water as needed. The funds raised from the 5K race will be used to continue the many beneficial programs at the local Boys and Girls Club.
Pictured are NCMAR volunteers Brieanna Kelly and Yasmin Loft at the Boys and Girls Club 5K race. They helped with feeding all the runners, walkers and workers.
The North Central Massachusetts Association of REALTORS is the most trusted resource for real estate information in Northern Worcester County and BGCA is the premier youth development organization in the U.S. Both organizations have come together to make an even greater difference in the community.
American Cancer Society Relay for Life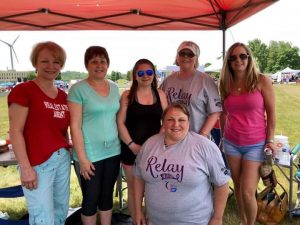 North Central Massachusetts Association of REALTORS and Affiliates Building on Hope team participated in the American Cancer Society Relay For Life event on June 10th and 11th at Mount Wachusett Community College in Gardner. Shauna Roberts and her team of NCMAR members all joined in the walk to cure cancer. Opening ceremonies were moving and the luminaries at 9 pm were a sight to behold. This year's 24 hour event was exceptionally  in this worthwhile event was fun and meaningful.
Pictured are Relay Team members Yasmin Loft, Julie Millar, Brieanna Kelley, Denise Wortman, Shauna Roberts and Kendra Dickinson.
United Way Day of Caring
Participating in the United Way of North Central Massachusetts September Day of Caring, our members enjoyed the opportunity to spend the day outdoors fixing up the local North County Land Trust by clearing walking trails and removing overgrown areas or indoors organizing records at the Fitchburg Historical Society. Supporting our local non-profit agencies is a way of giving back to our local communities and "living united". 
Pictured are Katie Weldon, Julie Millar, Michelle Haggstrom, Irene Hayes and Denise Wortman with their new grey Live United T-shirts.
Pictured are Julie Millar, Steve Kelley, Brieanna Kelley, Tom Ruble, Yasmin Loft, Brian Cormier and Katie Weldon.