Fill-A-Cruiser Food Drive
Publics generosity leads to successful NCMAR Fill a Cruiser Food Drive
Fitchburg/Leominster/Athol – The COVID-19 pandemic has greatly affected local food  banks — more residents are now using their services, while fundraisers struggle to collect enough funds to keep up with the rising demand.
The Community Involvement Committee of North Central MA Association of REALTORS jumped into action to fill a cruiser and fill the shelves of local pantries. Held on Saturday. May 22nd at various Market Basket locations — Athol, Leominster and Fitchburg from 10 am to 2 pm., the fundraiser that aims to fill local food bank shelves was a hit.
Police officers and cruisers were parked in front of the Market Basket stores. There, a few volunteers and the police officers were on hand to collect food donations as well as monetary donations — and they were quite busy.
"It's been going great," said Darlene Rossi, one of the volunteers and President of the North Central MA Association of REALTORS.. "This is such a giving community, it's been incredible and we aren't even at the busiest time of the day yet. It's only morning."
Nearly every shopper that left the store had a donation in their cart, which they gave to the volunteers to stuff in the cruiser.
All of the police officers and volunteers were impressed with the amount of donations that were flowing out of the store during the fundraiser.  "The feedback we've been getting is very positive," said Brieanna Kelley, Community Involvement Chair. "People are really being generous today, it's great."
The Athol High School Food Pantry in Athol, the Spanish American Center in Leominster and Our Fathers House in Fitchburg were the recipients of all the food and cash donations. Like many other local food banks and shelters these three have seen its customer base increase during the COVID pandemic.
Among the three locations, the police cruisers were filled 12 times to overflowing and over $1,200 in monetary donations were collected.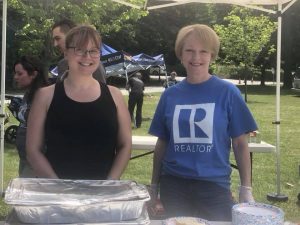 American Cancer Society Relay for Life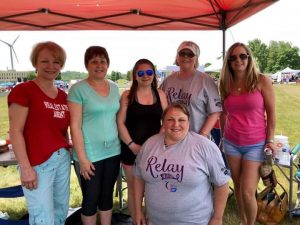 North Central Massachusetts Association of REALTORS and Affiliates Building on Hope team participated in the American Cancer Society Relay For Life event on June 10th and 11th at Mount Wachusett Community College in Gardner. Shauna Roberts and her team of NCMAR members all joined in the walk to cure cancer. Opening ceremonies were moving and the luminaries at 9 pm were a sight to behold. This year's 24-hour event was exceptionally in this worthwhile event was fun and meaningful.
Pictured are Relay Team members Yasmin Loft, Julie Millar, Brieanna Kelley, Denise Wortman, Shauna Roberts, and Kendra Dickinson.
United Way Day of Caring
Participating in the United Way of North Central Massachusetts September Day of Caring, our members enjoyed the opportunity to spend the day outdoors fixing up the local North County Land Trust by clearing walking trails and removing overgrown areas or indoors organizing records at the Fitchburg Historical Society. Supporting our local non-profit agencies is a way of giving back to our local communities and "living united".
Pictured are Katie Weldon, Julie Millar, Michelle Haggstrom, Irene Hayes, and Denise Wortman with their new grey Live United T-shirts.
Pictured are Julie Millar, Steve Kelley, Brieanna Kelley, Tom Ruble, Yasmin Loft, Brian Cormier, and Katie Weldon.